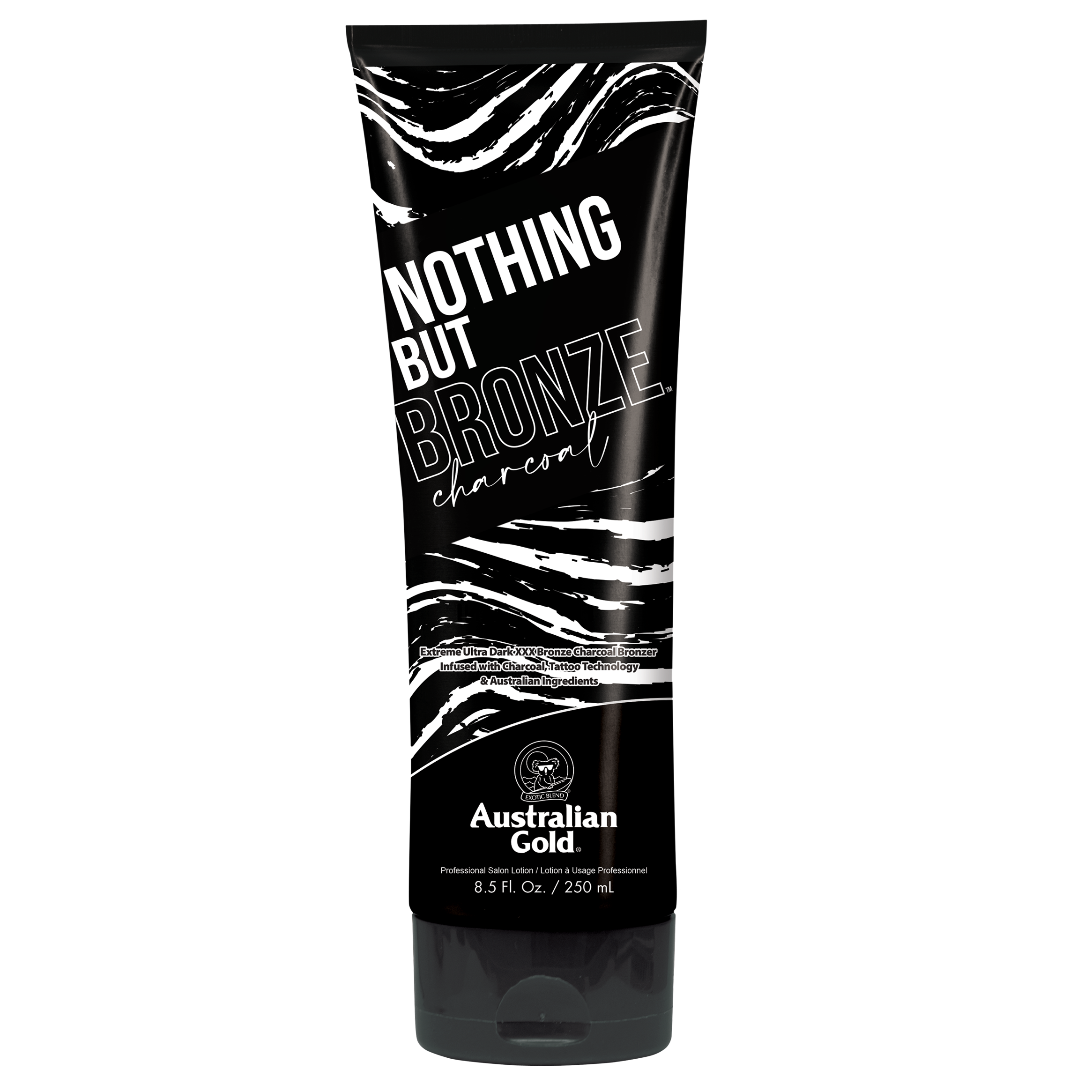 Nothing But Bronze Charcoal™
Extreme Ultra Dark XXX Charcoal Bronzer Infused with Tattoo Technology & Australian Ingredients
Go from now to wow with Nothing But Bronze Charcoal™! This Extreme Ultra Dark XXX Bronzer delivers immediate color results and an even darker, developed bronze radiance that is sure to take you from 0 to 10 with each session. Let your skin be the star with this Wild Floral Fusion that harnesses the power of the Outback which nourishes and soothes for a ferocious skin tone. Charcoal Extract helps lift away impurities for the ultimate glowing skin! Give tattoos a decadent gulp of hydration with ColorGuard™ Plus Tattoo Technology to provide vibrancy to all your beautiful works of art! Looking for serious results…then look no further.
Extreme Ultra Dark XXX Charcoal Bronzer: A unique blend of powerful Natural Bronzers, DHA and Tyrosine that deliver immediate gratification and even darker, developed color over time; also includes Banana Extract that contains dopamine, which is a melanin precursor, and is known to help increase melanin production in the melanocytes for amazing color results.
Wild Floral Fusion: Australian native Emu Bush and Kangaroo Paw Extracts contain phyto-active compounds which are known to have skin regenerative effects, keeping skin hydrated while providing powerful antioxidant properties that protect and nurture for improved skin appearance.
Charcoal Extract: Detoxifies skin for instant skin brightening effects.
ColorGuard™ Plus Tattoo Technology: Luxurious blend of Tiger Grass and Cocoa Butter that work together to hydrate and protect for more vivacious ink.
Purrfection Finish Primer: Natural polymer and a brightening agent fill in imperfections and give the appearance of a more even and radiant complexion.
Tea Tree Oil: A pure essential oil, known to have natural odor fighting properties, which help prevent after tan odor from developing.
Fragrance: Agave & Lime – Lime, Pineapple, Bergamont, Agave Nectar, Coconut, & Amber
TAN EXTENDER