Step Inside the Future of Sunless
Introducing VersaSpa®, the next generation of automatic sunless tanning systems designed to give your skin a natural, vibrant, long-lasting glow in just minutes while leaving you relaxed and rejuvenated. It's still sunless tanning. Just revolutionized.
This is no ordinary sunless booth. VersaSpa® combines innovation after innovation to transform your skin in just minutes. Bronze, Hydrate and Smooth fine lines in just one session.
Enjoy the process as much as the results and relax, with a wide-open interior design, EZ-2Breathe purification system, and Comfort-Dry technology. VersaSpa® applies a perfect sunless tan every time.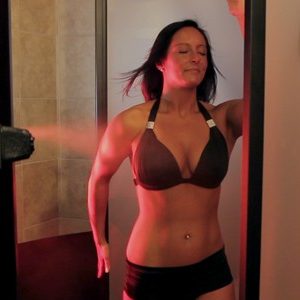 Spa Treatments
Sunless Bronzing Treatments
Through a proprietary blend of DHA, amino acids, aloe, and other professional-grade ingredients, VersaSpa® bronzing treatments work to condition and moisturize your skin, while dramatically increasing its color depth. Now you can enjoy a quick-drying, streak-free, deep penetrating application for a vibrant, sexy glow. Choose between Bronzer and Clear Bronzer (no cosmetic tint).
Post-Sunless Super Hydrating Treatment
VersaSpa's® super hydrating treatment, a proprietary blend of skin soothing botanicals, soy proteins, green tea extracts, and other professional-grade ingredients, helps to replenish your skin's vital nutrients, diminish fine lines, and deepen its golden color after a session. It's the secret to a longer-lasting, natural looking sunless tan.
Customize Your Tanning Application
First, choose one of the following:
Instant Bronze Session
An instant bronze session will show immediate results and develop into a deep, dark tan.
Clear Bronze Session
A clear bronze session will also develop into a deep, dark tan within a few hours, but without any tint to the solution that might possibly rub off onto your clothes (a great choice if you're wearing white.)
Then, choose whether or not to top it off with a Post-Sunless Super Hydrating Treatment.
Double Dip Session
For those of you who want to get super dark, super fast, ask your consultant about doing a Double Dip session: First tan in one of our UV beds, then do an Instant VersaSpa Session for CRAZY COLOR!